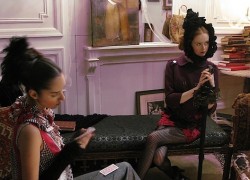 Fashion Week Fall 2013 Live Streams

The "Big 4″ fashion weeks are getting set to roll-in again, beginning with London: Men's Collections on January 7, 2013.
More than a few shows will be live-streaming from the fashion capitals of New York, London, Milan and Paris (in that order).
While there will also be men's and haute couture shows in Milan and Paris in January, we have no information as of yet on whether these shows be live streaming. But yes, we'll be watching the skies! (And if you have a hot tip, let us know: contribute(at)liverunway.com!)
Anyway, as always, you can see the live streams (as they appear) by clicking on the "city navigation" at the top of this page.
But here are the Big 4 links anyway, 'cuz we aim to please:
New York Fashion Week Fall / Winter 2013
London Fashion Week Fall / Winter 2013

Milan Fashion Week Fall / Winter 2013

Paris Fashion Week Fall / Winter 2013
##
Photo: www.fashionologie.com