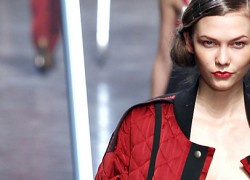 Live Runway is proud to have completed our first season.

Well, it was more of a "mini-season."
Our fearless editor Samuel Schler was on board, covering the Paris Men's and Haute Couture shows from his state-of-the-art iPad. And we provided links to all the live streams we could find for London, Paris and Milan.
(Can you believe that, when Pablo told Sam to "have fun," Samuel had the nerve to say Paris Fashion Week was hard work? Maybe, Samuel, MAYBE. Pablo does seem to remember uploading pictures at 4 AM during Los Angeles Fashion Week, and wanting to cry, but that's another story.)
But all this leads us to a number of questions posed by faithful readers.
One alert reader asks:
Dear Live Runway: I'm a great fan of your site, but I have a few questions about fashion seasons. I read that fashion week only occurs during February and September. Why were there shows this summer?
Dear Reader:
First of all, thank you. It's totally true that we're the best magazine ever. Wait, you didn't say that, did you? Drat. We hate you now. No no, not really.
It's true that the Big 4 (New York, London, Milan and Paris) have two dedicated fashion "weeks" per year, generally around February and September. (Not always a literal week. London's, for example, is actually more like 4-5 days.)
However, the last four years have given rise to "pre-fall" collections presented in summer.
Milan has summer shows dedicated to Menswear. And Paris has two additional summer shows: Haute Couture (the fanciest stuff), and Menswear. This year the British Fashion Council got in on the Menswear act, as well, with London: Men's Collections.
Why did this happen? A little birdie was able to point us in the direction of some information leading to this article, which explains how this important "pre-fall" season has come about in response to changing buying habits from consumers.
So you can read that, because it's interesting, and then you can email us and tell us what you learned, because frankly we're a little tired.
When do the clothes on the runway (SS 13) actually hit stores? Are these clothes for next year?
The clothes you see are for next season! Welcome to the confusing world of fashion week(s)!
No seriously, it's not that bad.
When it's Fall, you're getting a look at clothes that will be available the following Spring.
That's why, for example, when Pablo is sitting shivering in his unheated apartment, coughing, wearing a multicolor scarf covered with cat hair, and it's late September, he's watching "Spring 2013″ collections online and pretending he's on a sailboat, somehow, improbably.
Rule of Thumb: The name of the fashion week is when the fashions will be available in stores.
So how do designers know what future trends will be?
It all has to do with tarot cards. Okay, we're joking again and promise to shut up.
Trend forecasting is part art, part science. Skilled trend forecasters study social patterns, consumer behavior, and attend trade shows to see looks from other disciplines. And designers go from the "gut," blending classical and cutting-edge looks that are part inspiration and part observation.
Also they have a special monkey's paw locked in a Swiss vault, that points at, like, ideas.
Okay, we lied about the jokes.
##
More questions? Nothing better to do? Email: contact AT liverunway.com.
Image: Karlie Kloss models Sonia Rykiel at Paris Fashion Week, from Vogue.it as found at isthisitmodelsreview.com. Whew.