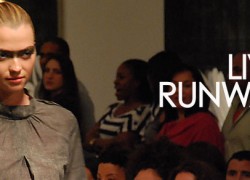 Good question!

Well, we're here to provide you with monthly, weekly — yay, even DAILY — links to live streaming runway shows around the world.
Our goal? Help you stay up late to see the latest trends in, say, Paris, London, Milan, New York, Moscow, Hong Kong, Sao Paolo (et cetera), so you can miss work and then not have money left to actually buy anything.
On the other hand, you could tell your boss you were burning the midnight oil working on that latest expense report, and when your boss asks for proof, you can silently point to your own bleary, red-lidded eyes, and he or she will probably just give you a pass for pure pity's sake.
Wait, where were we going with this?
RIGHT!
You can see how we helped our viewers miss work during Paris Fashion Week, if you're curious to see the level of, uh, commitment or something we have.
B00m!
##